10 Nov

Galleria Kookos to Malaysia

Aamulla 2. marraskuuta 2019 järjestettiin Taiichi Modern Art Galleryn 20-vuotisjuhlan kansainvälinen taidenäyttely Malesian Kedahin Sungai Petani -tapahtumassa. Näyttelyyn osallistui 45 taiteilijaa Espanjasta, Iso-Britanniasta, Kiinasta, Suomesta, Ruotsista, Japanista, Etelä-Koreasta, Malesiasta, Intiasta, Indonesiasta, Thaimaasta, Singaporesta, Venäjältä, Ranskasta, Libanonista ja Taiwanista, yhteensä 16 maasta ja alueelta ympäri maailmaa. Galleria Kookos oli erittäin iloinen kutsusta osallistua näyttelyyn 12 eurooppalaisen taiteilijan teosten kanssa. Malesian matkailu-, taide- ja kulttuurivaraministerin  Tuan Muhammad Bakhtiar bin Wan Chik avasi taidenäyttelyn.

On the morning of November 2, 2019, the 20th anniversary international art exhibition of Taiichi Modern Art Gallery was held in Sungai Petani, Kedah of Malaysia. There were 45 participating artists from Spain, the United Kingdom, China, Finland, Sweden, Japan, South Korea, Malaysia, India, Indonesia, Thailand, Singapore, Russia, France, Lebanon and Taiwan, together 16 countries and regions around the world. Galleria Kookos was very delighted to be invited to participate in the exhibition with 12 European artists´ art works.Y.B. Tuan Muhammad Bakhtiar bin Wan Chik, Deputy Minister of Tourism, Arts and Culture of Malaysia, opened the art exhibition.

2019年11月2日上午,马来西亚第一现代美术馆20周年馆庆国际学术展在吉打州双溪大年市马来西亚第一现代美术馆开幕,45名参展艺术家分别来自西班牙、英国、中国、芬兰、瑞典、日本、韩国、马来西亚、印度、印度尼西亚、泰国、新加坡、俄罗斯、法国、黎巴嫩、台湾等全球16个国家和地区。Galleria Kookos库克斯画廊携带12位欧洲艺术家的作品应邀参加这次的展览。马来西亚文化艺术旅游副部长Tuan先生为画展开幕。
Y.Bhg.Dato´Tai Keik Hockin ja herra Vincent Tan puhe
戴毓赋拿督和美术馆助理戴Vincent发表讲话
Speech of Y.Bhg.Dato´Tai Keik Hock and Mr. Vincent Ta
Kuraattori Dr.Chen Guohui ja Cheng Yifeng esittelivät Chengin veistosta Ministe Tuanille
策展人陈国辉博士和雕塑家程一峰给Tuan部长介绍程的作品
Curator Dr.Chen Guohui and Cheng Yifeng was introducing Cheng´s sculpture to Ministe Tuan.
Kuraattori Tai Lee Keow ja Mari Blomroos-Heininen Marin teosten edessä
马来西亚第一现代美术馆馆长助理戴丽娇在库克斯画廊策展人玛丽作品前合影
Curator Tai Lee Keow and  Mari Blomroos-Heininen in front of Mari´s art works.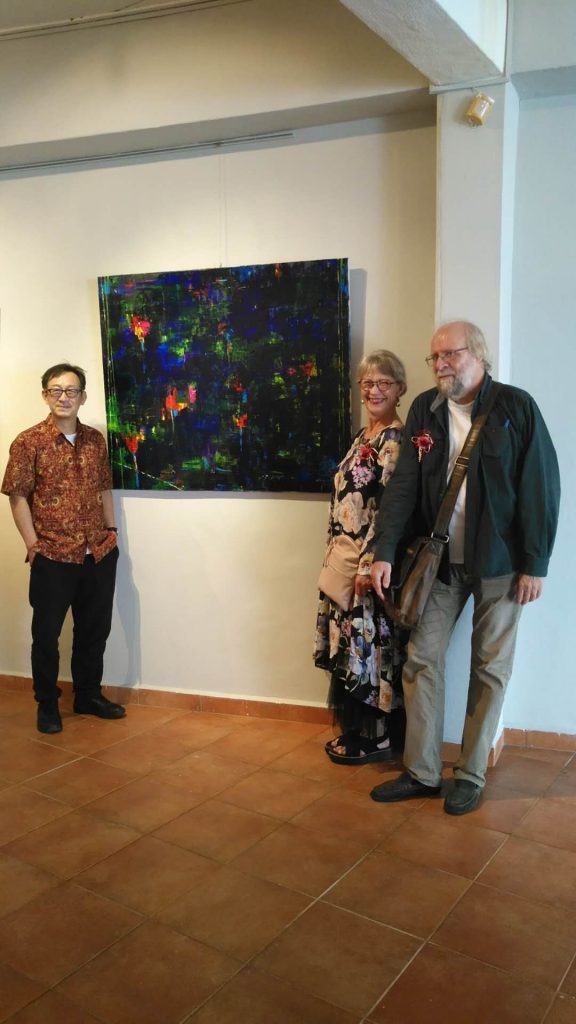 Lai Hshin Lung, Esko Kaasinen ja Mari Blomroos-Heininen Laiin maalauksen edessä
艺术家赖新龙与Mari和艺术家Esko在他的作品前合影 
Lai Hshin Lung,  Esko Kaasinen and Mari Blomroos-Heininen are in front of Lai´s painting
Hong Liu-Sertti esitteli taideteostaan ​​ministeri Tuanille
刘译鸿艺术家给Tuan部长介绍自己的作品
Hong Liu-Sertti was introducing her art work to Minister Tuan.