05 Apr

Middle of The Fiction 17.04 – 05.05.2019
Middle of The Fiction
17.04 – 05.05.2019
Mitä on kuvitteellisuus, abstraktio tai subjektiivinen havainto? Kuinka todellisuus muovautuu henkilökohtaisen tulkinnan tuottamana? Onko kaikkien punainen yhtä punainen ja voiko toisen musta olla valkoinen? Fiktiota vai faktaa?
Näe, koe, kuvittele ja ennenkaikkea eläydy näyttelyn tarjoamaan kokemukseen.
Middle of The Fiction
17.04-05.05.2019
What is the imagination? Abstraction or subjective observation? How is the reality translated by personal interpretation? Is every red equally red and can your black be my white? Is it fiction or fact?
View, experiment and imaginate, then above everything, the exhibition Middle of The Fiction will offer an experience.
 Timo Ala-Vähälä
Tapio Haapala
Helena Helisten
Sini Hodju
Ulla-Maija Vaittinen
Maija Vanhatapio
Avajaiset 16.04.2019, klo 18-20. 
Vernissage 16.04.2019, 6-8 pm. 
<<小說之中>>
2019年4月17日 -5月5日
想像力是什麼? 抽像的或是主觀的觀察? 現實如何通過個人的闡述來解读? 每一种紅色都是一样的紅色嗎?另一种黑色可以是白色嗎? 是小說還是事實呢?
除了觀看,嘗試和想像之外,最重要的是,展覽 <<小說之中>>展現了經驗。
开幕式2019年4月15号周二晚上6-8点。
Alastomia/ Naked, muste paperille / ink on paper by Timo Ala-Vähälä
Ruuvin Luonto / Nature of Screw, läpivärjätty betoni / Colored concrete by Tapio Haapala, 2019
Kolme mieltä / Mindset, 60×80 cm, muste paperille / ink on paper by Helena Helisten, 2019
If-exists by Sini Hodju, akryyli- ja öljyväri pahville / acrylic and oil paint cardboard, 100×85 cm, 2019
Intro by Maija Vanhatapio, akryyli /acrylic , 50×50 cm, 2018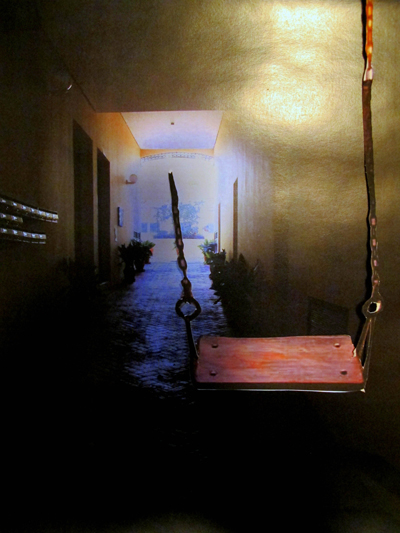 Oma piha / Own yard, valokuvakollaasi vedos / photo collage print by Ulla-Maija Vaittinen