09 Nov

SURPRISE 18.11. – 06.12.2020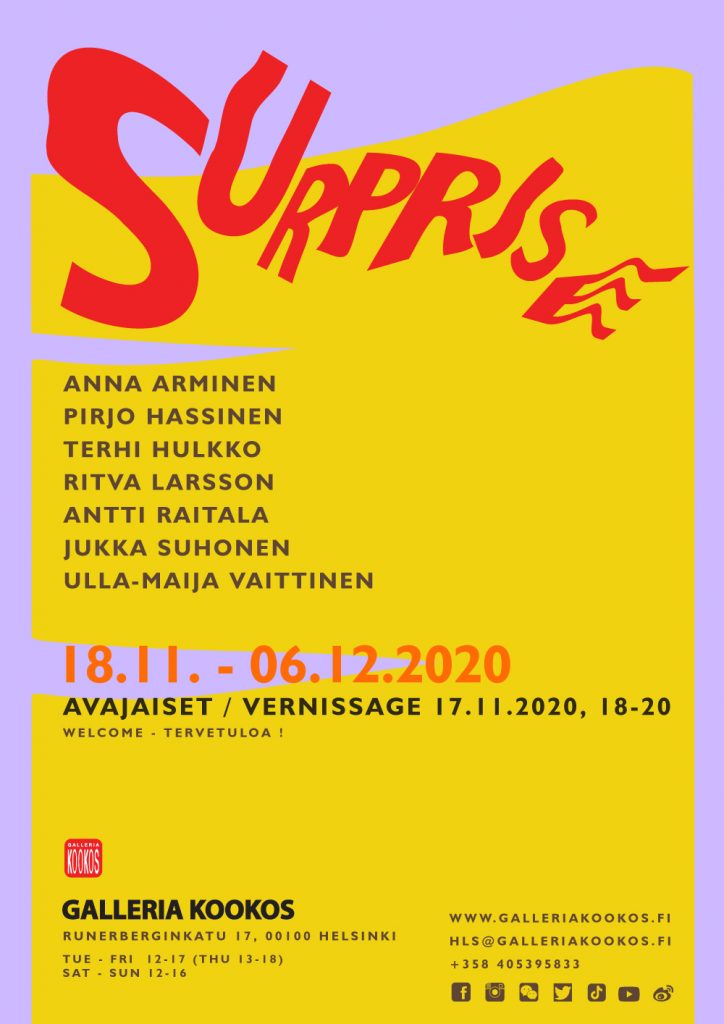 Elämme yllätysten maailmassa ja yllätykset ovat osa elämäämme.
Yllätetyksi tuleminen on itseasiassa etuoikeus ja mahdollisuus, joka löytää uusia polkuja lukkiutuneisiinkin tilanteisiin ja ajatuksiin.
Moni asia on löydetty sattumalta ja yllätyksien kautta. Vanhoihin näkökulmiin linnoittautuminen ei avaa tietä eteenpäin, joskin muutos ei ole hyvä vain muutoksen vuoksi.
Surprise-näyttely tarjoilee elämyksiä yllätysten maailmassa.
***
We live in a world of surprises and surprises are a part of our lives.
Being surprised is, in fact, a privilege and an opportunity to find new paths to even locked-in situations and thoughts.
Many things have been found by chance and through surprises. To the old perspectives, fortification does not open the way forward, although change is not good just because of change.
The Surprise exhibition serves experiences in a world of surprises.
Taitelijat/artists: 
Anna Arminen
Pirjo Hassinen
Terhi Hulkko
Ritva Larsson
Antti Raitala
Jukka Suhonen
Ulla-Maija Vaittinen
Avajaiset: 17.11. 2020 klo 18.00 – 20.00
Opening ceremony: 17.11. 2020 from 18:00 to 20:00
Avoinna: Ti, Ke, Pe 12-17, (To 13-18), La-su 12-16
Open hours: Tue, Wed, Fri 12-17, Thu 13-18, Sat-Sun 12-16
Galleria Kookos
Runeberginkatu 17,
00100, Helsinki
www.galleriakookos.fi