05 Aug

Takaisin luontoon – Back to Nature 11.08.-29.08.2021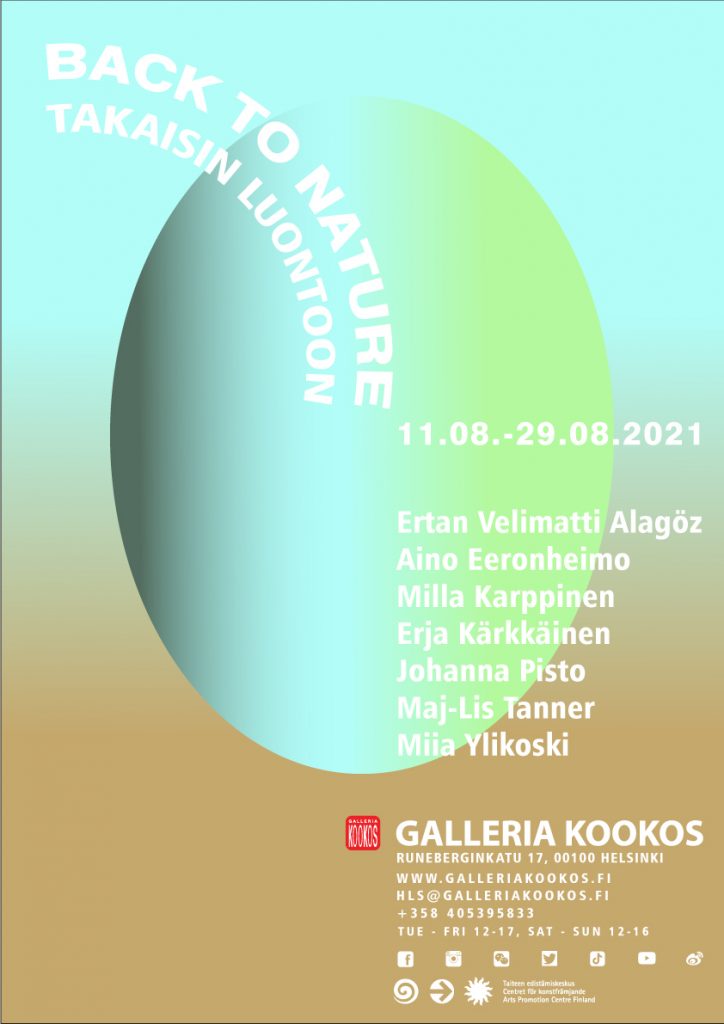 Galleria Kookos 11.08. – 29.08.2021
Takaisin luontoon – Back to Nature
Eri kansojen suhde luontoon ja luonnon merkitys yleisesti ovat kulttuurisidonnaisia.
Kulttuurien muokkautuessa ja arvojen muuttuessa, tapahtuu välttämättä myös luontokäsityksen muutoksia.
Nykykäsityksemme ja luontosuhteemme ovat muuttuneet myös globalisoitumisen seurauksena.
Vakavien ympäristökysymysten ja luontokadon seurauksena on noussut kasvava huoli luonnon tuhoutumisesta ihmisen toiminnan seurauksena. Tunnemmeko vastuumme?
Ihminen on aina ollut osa luontoa, mutta kuinka me kohtaamme luonnon tänään ja mitä se merkitsee meille?
Galleria Kookoksen näyttelyssä luontokokemuksia taiteen ilmaisemana.
*****
The relationship between different peoples and nature, and the importance of nature in general is culturally related. When cultures and values change, inevitably also the view of nature changes. Our present views and relationships considering nature have also changed as a result of globalization.
As a result of serious environmental issues and decline, there has been a growing concern about the destruction of nature as a result of human activity. Do we know our responsibility?
Humans have always been part of nature, but how do we face nature today and what does it mean to us?  In Galleria Kookos' exhibition are experiences of nature through expressions of art.
Taidelijat / Artists: 
Ertan Velimatti Alagöz
Aino Eeronheimo
Milla Karppinen
Erja Kärkkäinen
Johanna Pisto
Maj-Lis Tanner
Miia Ylikoski
Tervetuloa! Welcome!
Text by Curator Mari Blomroos-Heininen
Galleria Kookos
Runeberginkatu 17,
00100, Helsinki, Finland
www.galleriakookos.fi
Facebook: @galleriakookos
Instagram: @galleriakookos
opening hours: Tue – Fri 12-17, Sat – Sun 12-16