29 Aug

Urban Vision 11.09. – 29.09. 2019
Urban Vision
Kaupunki ja elämä urbaanissa ympäristössä on aina ollut kiinnostava kohde taiteessa.
Rakennettu kaupunki, kaupunkiluonto, ja sen asumisen sekä elämisen kulttuurit rakentavat omalta osaltaan kaupungin monimuotoisuutta ja luonnetta.
Asukkaat ja ihimillisen elämän kaikki ilmiöt luovat sen sydämen. Kova ja herkkä elävät rinnakkain ja vastakkainasettelutkin ovat osa urbaania kaupunkiyhteisöä.
Oman aikamme taide tarkastelee erityisesti kaupunkimaailmaa ja sen ilmiöitä
Galleria Kookoksen Urban Vision näyttelyssä.
Bela Czitrom
Aino Keinänen
Aarre Kärkkäinen
Marja Maljonen
Hilkka Uusikylä
Pauliina Waris
Avajaiset 10.9. 2019. klo 18-20. 
Urban Vision
The city and the life in an urban environment has always been an interesting subject in art.
The built envoirment, the urban nature and the different cultures of living contribute to the diversity and character of a city. The inhabitants and the contrasting realities of the human life create the heart. Rough and sensitive living side by side with the confrontations are part of an urban community.
Contemporary art looks at the urban world and its expression at the Urban Vision exhibition of Galleria Kookos.
Vernissage 10.9. 2019 at 6 – 8 pm. 
Artists:
Bela Czitrom
Aino Keinänen
Aarre Kärkkäinen
Marja Maljonen
Hilkka Uusikylä
Pauliina Waris
《Urban Vision 城视》 11.09. – 29.09. 2019
城市的景观和生活一直是一个有趣的艺术课题。
城市的面貌及生活居住的文化,产生了城市的多样性和特色。 居民及其生活的所有现象创造了城市的灵魂。 艰难与感性的生活并存,甚至对抗也是城市社区的组成部分。
在Galleria Kookos库克斯画廊的《Urban Vision 城视》的展览中,我们将会展现城市的当下艺术。
参展艺术家:
Bela Czitrom ( 土耳其 )
Aino Keinänen ( 芬兰 )
Aarre Kärkkäinen ( 芬兰 )
Marja Maljonen ( 芬兰 )
Hilkka Uusikylä ( 芬兰 )
Pauliina Waris ( 芬兰 )
开幕式 2019/9/10 周二下午 6-8点。
***
Bela Czitrom 
The themes of my work come from mythology and fantasy. They also have their own life experiences and the influence of my mysterious native Transylvania.
Bela Czitrom, Deathless Bronze, 2017, 29 x 9 x195 cm
Academia de Arte Vizuale ION ANDREESCU, Cluj Napoca, Romania
Graduated 1981, Diploma in Sculpture, Teaching of Visual Arts and Restoration of Art.
Member of Finnish Association of Sculptors, Artists' Association of Turku, JÖÖTTI ry, Romanian Sculptors Union.
PERSONAL EXHIBITIONS :
2019. NAANTALIN TAIDEHUONE, NAANTALI
2016. GALLERIA JADE, HELSINKI, FINLAND
2015. VEHMAA KIRJASTO, FINLAND
2014. GALLERIA JOELLA, TURKU, FINLAND
2014. GALLERIA AVA, HELSINKI, FINLAND
2012. GALLERIA TILA, HELSINKI, FINLAND
2008. HOLLOLA, FINLAND
2004. GALLERIA JOELLA, TURKU, FINLAND
2000. GALLERIA JOELLA, TURKU, FINLAND
1997. GALLERIA JUST, TURKU, FINLAND
1997. VEHMAA KIRJASTO, FINLAND
1995. VASARELY MUZEUM, BUDAPEST, HUNGARY
1995. GALLERIA JOELLA, TURKU, FINLAND
1995. ARTMAN GALLERY, TURKU, FINLAND
1994, GALLERIA 1, TURKU, FINLAND
1994, LE FLEURON GALLERY, HONFLEUR, FRANCE
1994. ART`URE GALLERY, LA ROCHE-GUYONE, FRANCE
1994. TUFFIER GALLERY, LES ANDELYS, FRANCE
1994. ROLLIN GALLERY, ROUEN, FRANCE
1993. Memoire des corps, UNESCO, PARIS,FRANCE
1993. VANHA RAATIHUONE, TURKU, FINLAND
1991. GALLERIA JOELLA, TURKU,FINLAND
1990. RUNOSMÄKI KIRJASTO, TURKU, FINLAND
1990. IKITUURI HOTEL, TURKU, FINLAND
1991. HUNGARIAN CULTURE CENTER, HELSINKI, FINLAND
1991. TAMPERETALO, TAMPERE, FINLAND
1991. RAISIO KIRJASTO, FINLAND
1991. ULLAKKO GALLERY, TUUPOVAARA, FINLAND
1988. GALERIA GALATEEA, BUCHAREST, ROMANIA
1984. GALERIA ORIZONT, ATELIER 35, BUCHAREST, ROMANIA
1984. TEATRUL FOARTE MIC, BUCHAREST, ROMANIA
1983. CASA DE CULTURA PETÖFI SANDOR, BUCHAREST, ROMANIA
1982. GALERIA DE ARTA, TUSNAD-BAI, ROMANIA
1982. GALERIA DE ARTA, MIERCUREA-CIUC, ROMANIA
1979. MUZEUL MIERCUREA-CIUC, ROMANIA
AWARDS :
GOLD MEDAL FOR PARTICIPATIONS IN THE 8- th BIENNALE DANTE ALIGHIERI, RAVENA , ITALY
TURKU UNIVERSITY PRIZE
CERTIFICATE OF MERIT, THE 1 st. AUTUMN ANNUAL IN VENICE, PALAZZO CORRER, ITALY
STIPENDS :
TURUN KAUPUNGIN KULTTUURILAUTAKUNTA
TOP SÄÄTIÖ
TAITEEN KESKUSTOIMIKUNTA
TURUN KAUPUNGIN KULTTUURILAUTAKUNTA
Aino Keinänen
My works represent the power of nature, its ability to grow through thick rock and to invade humanmade constructions. Nature also refers to the innermost of a human being, something that pushes out and is impossible to hide forever. Even an urbanised person longs for nature and needs it to keep in touch with their body and their life.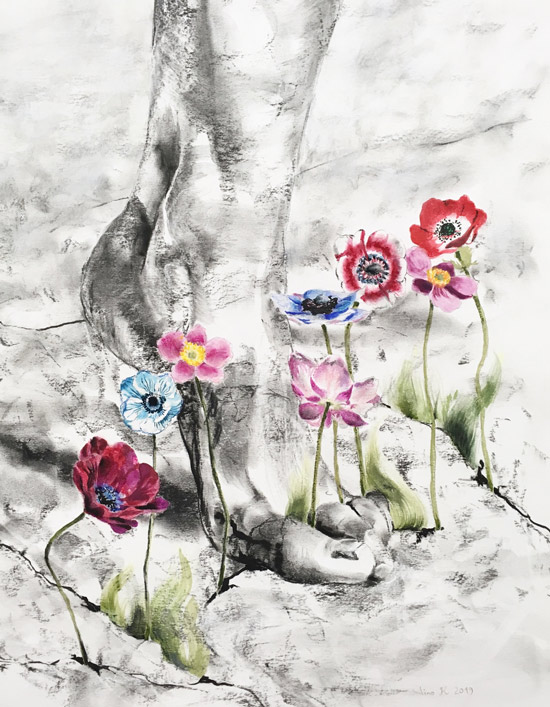 Aino Keinänen, The Power of the Earth, 2019, carbon, pastel, acrylic and ink on paper, 50 x 40 cm
Education:
2015 Monumental Art Saimaa Open University of Applied Sciences
2014-2016 History of Modern Crafts and Design, Workshop of Digital Art,
Trash art, Group process of Art Therapy,
Metal Studio, Screenwriting of Film and Comics,
Textile Printing and Dyeing, Art and comedy Aalto Open University
2012-2013 Free Art School
2010 Master of Arts in Fine Art Académie Royale des Beaux-Arts de Bruxelles
2005 Bachelor of Arts in Fine Art Académie Royale des Beaux-Arts de Bruxelles
2003 Fundamental esthetics and philosophy of art Helsinki Open University
2003 European Baccalaureate European School II, Brussels
Memberships:
2015- Helsinki Artists´Association
2018- Finland's Artists
2018- Finnish Painters' Union
Solo Exhibitions:
2019 "My Favourite Colour is Protected" (itinerant) Seta ry and Sähinä Cultural Centre Helsinki
2019 "An Almost Imperceptible Grip" (itinerant) Laajasalo, Paavali and Pakila Chuches Helsinki
2019 "Of All Flowers" Rantakasarmi Gallery Helsinki
2018 "200 000 Years of Longing" Rantakasarmi Gallery Helsinki
2017 "Eight Graces" Rantakasarmi Gallery Helsinki
2015 "After a Nightmare" Rööperin Taidesalonki Helsinki
2014 "My Glance is my Guest" Kioski Café Gallery Helsinki
2012 "Waiting of Summer" Ateljee Bar Helsinki
2009 "Subjectile" Liike6 Helsinki
2009 "Objects" VicarART Brussels
Public Art Works:
2015 "Polar Light Lantern",lime painting on concrete Imatrankoski square parking hall Imatra
Aarre Kärkkäinen
Aarre Kärkkäinen, Manta, 2014, Gouache on paper, 70 x 100 cm
Painter, Visual Artist, New Media Artist, Photographer
Finnish Painters' Union
Union of Artist Photographers
Muu ry
Espoo Visual Artists (Chairman of the Board of Espoo Visual Artists 2008-2012)
Group Toeks
Kuvasto ry
PRIVATE EXHIBITIONS, INDIVIDUAL ART WORK AND INDIVIDUAL PERFORMANCES
Future exhibition in Gallery Taidesalonki, Helsinki, paintings 2013
Gallery Kapriisi, Tampere, paintings 2012
Gallery Gjutars, Vantaa, paintings and multimedia 2011
Gallery Saskia, Tampere, paintings 2010
Helsinki Public Library in Arabianranta, paintings 2010
Gallery Katariina,Helsinki 2006, Computer Game (opening performance)
Gallery Aarni 1999, Helsinki, installations, photos, drawings and a cd-rom
Galerie Novo 1999, 2001,2003, paintings and multi media
Espoo, Espoon kulttuurikeskus 1998, paintings, multi media and installations
Turku, Wäinö Aaltonen Museum 1997, Publication of the Flux Aura cd-rom
Espoo, EKT Galleria 1996,paintings, installations and cd-rom
Helsinki, MUU Gallery in Helsinki 1994, electric art
Helsinki Rake Galleriy 1989
Kuusankoski, Kuusankoski -talo 1989, paintings and a installation
Cd-roms of the Group Toeks: Jäähäät- Wedding on Glacier,2010
Parkkitaloelämää- Parking Garage Life 2008
Sunday Evening at the Bar of Porokylä 2007, NoEnd 2005, Two Stories in 3D Space 2004,Karelian Express 2003, One Way 2003, Agony Of JC 2001, Espoo-Alexanderplatz 2000, Don Quixote 1999, Divine Comedy Digital 1998, Spoon River Virtual 1998
EDUCATION
Master of Science ( mathematics), University of Helsinki 1972
PUBLIC COLLECTIONS
Helsinki,Suomen taideyhdistys;
Tampere,Tampereen nykytaiteen museo, cd-rom First Finnish Underground Art
Berlin, Neue Berliner Kunstverein, cd-rom Divine Comedy Digital
The Rose Goldsen Archive of New Media Art,Cornell Library, Ithaka, New York Cd-roms: Divine Comedy Digital, Espoo-Alexanderplatz
Galerie GPOA, Belgique, Bruxelles, cd-roms Divine Comedy Digital, Espoo-Alexanderplatz,Agony Of JC ; D>art cd-rom collection in Sydney. Australia
Europeana, the European Unions`s virtual library for the preservations of cultural heritage
AWARDS, TITLES AND HONORABLE AWARDS
CYNETart 2000 -honourable mention , Dresden, Germany 2000
Third Prize in File 200, International computer art competition, Sao Paulo, Brazil
Marja Maljonen
Marja Maljonen, Morning Moods, 2019, oil painting on canvas, 92 x 81 cm
ART STUDIES
2010 Lahti Polytechnic Institute of Fine Arts
2008 Alfa Art School of Arts, Helsinki
1992 Free Art School of Helsinki, Finland
SOLO EXHIBITIONS
2018 City Hall Gallery Hanko
2016 Gallery G 12, Kuopio
2015 Gallery Dix, Helsinki
2014 Studio Aarni, Espoo's visual artists
2014 Folkhälsanhuset, Espoo
2013 Gustavelund, Tuusula
2013 Art Gallerycenter, Naantali
2013 Gallery G 12, Helsinki
2012 Gallery Johan S., Helsinki
2011 Gallery Dix studio, Helsinki
2011 Cultural Center of Karhusaari, Espoo
2010 Gallery Kohina, Joensuu
2010 Ant Gallery, Helsinki
2009 Espoo culturcenter, Espoo
2009 Gallery Dix studio, Helsinki
2009 Gallery Tyko, Nurmes
2000 Gallery Pictor, Vihti
MEMBERSHIPS
Finnish Painters Union
The association of Espoo Visual Artists
The association of Viipuri Visual Artis The association of Espoo Visual Artists committee of exhibition 2010, 2015, 2016
Member of the board 2017
Hilkka Uusikylä 
Painting is important to me, like eating and sleeping …
I get idea from everyday things. People 's nature and face tell us a lot. I want to go deeper than the surface, which requires dedication and solitude.
Hilkka Uusikylä, Don't Bother, 2018, acrylic and oil on canvas, 94 x 80 cm
MEMBERSHIP:
Finnish Painters Union (Full Membership)
Union of Artist Photographers (Full Membership)
Muu ry. (1989-1997)
Espoo Visual Artists
Group Toeks
Member of the board of Espoo Visual Artists 2008-12
Member of Committee of Exhiition 2002, 2013, 2019
Kuvasto ry
SOLO EXHIBITIONS:
Gallery Vanha Kappalaisentalo, Porvoo 2018
Gallery G12 , Helsinki, 2016
Taidesalonki, Helsinki,2007, 2013
Gallery Kapriisi, Tampere 2012
Gallery Gjutars, Vantaa, 2011
Gallery Saskia, Tampere, 2010
Gallery Aarni,Wee Gee House, Espoo, 2009
Gallery Katariina, Helsinki 2006
Galerie Novo, Helsinki 1999, 2001, 2003
Muu ry, Helsinki, GOGYBER, Net Art, 2003-2005 (Group Toeks)
Gallery Oma Huone, Helsinki,1999
Gallery Aarni, Espoo,1998
Espoo Culturcenter, Espoo, 1998
EKT Gallery ,Espoo, 1996
Rake Gallery, Helsinki, 1988
WORK IN COLLECTIONS:
HAM, Suomen Valtio, Taideteostoimikunta
SCHOLARSHIPS:
Espoo, (several) last 2018
Svenska kulturfonden (Group)
Uudenmaan Taidetoimikunta
Avek
Pauliina Waris
As a painter I'm primarily interested in everything and I can't think of any topic which would not be a good subject for my work. Often I get excited about some phenomena of human life becoming concrete or becoming visible in some short moment. Especially interesting are the moments when something suddenly and surprisingly reveals itself – for example in micro expressions on peoples faces, an object someone dropped or left lying around, a layer of dust on top of the closet. These kind of everyday matters also make me pay attention on how we define things and use language, whether it consists of sounds, letters, pictures or other elements.
Right now I'm interested in the definition of emptiness, which often seems to have something to do with human being or with the absence or presence of human being or life. My thoughts about emptiness have lately been the starting point of my paintings, or I've noticed afterwards that the painting has to do with them. As I go along painting, I pay attention to light and form and to the way different materials act and become visual together. The final artwork is a result of the interaction between planned and intuitive working – sometimes it happens after a long fight and sometimes it seems to happen by itself. I use a lot of egg tempera, pigments, pencil and oil pastels. The base I use is recycled every time it's possible and mostly it's organic by origin. Recycled and organic material has in some ways present it's former life, so the beginning of the painting is always there before I've actually made any brush strokes.
My wish is that my paintings would make the viewer see something familiar or odd, which would make them stop for a moment and maybe communicate a while with it.
Paulina Waris, On sleepless nights, you come to mind, 2018, egg temp for plywood, 120 x 50 cm
EDUCATION
2018 Painter, Free Art School, Helsinki
2008 Master of Arts, Finnish Language and Comparative Literature,
University of Turku
SOLO EXHIBITIONS
2020 Galleria Kellokas, Ylläs (upcoming)
2019 Malmitalon galleria, Helsinki (upcoming)
2019 Galleria Jänis, Turku (upcoming)
2019 7:50, Galleria Ronga, Tampere
2018 Lentouni – Dream of flight, Sokos hotel Torni Ateljee Bar, Helsinki
2017 Etsin, kokoan ja puran, Galleria Vaaga, Helsinki
2017 Merkintöjä tästä päivästä ja eilisestä, Studio Verte, Helsinki
2015 Tänään – maalauksia ja piirustuksia, (with Emma Luukkala), curator Sari Tenni, Hotel Torni Ateljee Bar, Helsinki
WORKS IN COLLECTIONS
Private collections
Sokos Hotel Torni, Helsinki
MEMBERSHIPS
2019 – Finnish Painters' Union
2018 – Helsinki Artists' Association
Exhibition pictures: